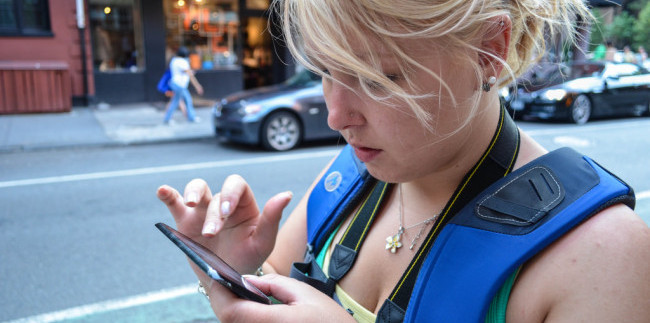 Many motorists are suffering from a common fear when behind the wheel, but it's not usual slate of driving fears you may normally expect. They're not afraid of other drivers, getting into an accident or even driving over bridges or driving through tunnels.
They're afraid of missing out on something that may be better than what they're doing.
Fear of missing out, or FOMO, is an anxiety inducing state that can run particularly high when related to social media. So high, in fact, that more than 40 percent of all drivers who responded to a recent survey said they used their mobile phones while driving for activities other than making a hands-free call.
What the Survey Said
An online survey conducted on behalf of the U.K. insurance company Aviva polled 1,565 drivers during June 2016. A total of 655 of them, or a full 42 percent, admitted to checking in on their phones while behind the wheel.
Drivers aged 24 and under were the most common culprits, with 66 percent of that age group guilty of taking their eyes off the road to put them on their phones. Reasons included:
40 percent: Reading text messages
22 percent: Using Facebook
21 percent: Using Instagram
19 percent: Using Snapchat
What the Statistics Say
The fact that smartphone use while driving puts all motorists at risk is easily backed up by a slew of statistics. A few of the scarier ones include:
64 percent: Percentage of road accidents in the U.S. that have cell phones involved
25 percent: Percentage of car accidents caused by texting while driving
6 times: How much more likely you are to be in a crash caused by texting and driving over drinking and driving
11: Number of teens that die every day in the U.S. because they were texting and driving
While many of the statistics involve texting while driving, any type of distracted driving can be dangerous. And when you add FOMO into the mix, the danger is intensified.
FOMO Fueling Addiction
Fear of missing out is nothing new. It's long been triggered by enticing emails, annual holiday letter updates and even the society pages in newspapers. What is new is the steady stream of updates that showcase all the exciting events and happenings going on 24/7/365 that have an even higher chance of making folks feel left out.
Thanks to the immediacy and widespread use of social media, the phenomenon of FOMO has moved into the zone of addiction. Many are addicted to checking in on events due their overriding fear that they're missing out on something or someone more exciting, interesting or better than what they're currently doing.
The solution to the problem goes much deeper than shutting off smartphones while driving. While that may reduce the incidents of distracted driving, it doesn't address the root cause of the anxiety. Getting to the heart of the matter would involve being at peace with what is happening right here, right now – without the fear that we're being left behind. And that's a vital focus to have when behind the wheel.
SOURCES: